Speaker, of Delta State Assembly, Rt Hon Emomotimi Dennis Guwor, has lauded the contributions of past members of the House in the growth and development of the state.
Rt Hon Guwor gave the commendation when he played host to the executive and members of the forum of non-sitting members of the Delta State House of Assembly who were in his office on a courtesy visit.
The Speaker explained that as former members of the legislature, their legislative efforts have been instrumental to the overall development of the State.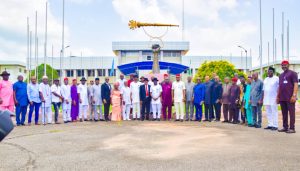 Flanked by the Deputy Speaker, Arthur Akpowowo, Majority Leader, Emeka Nwaobi, and some other principal officers and members of the House, Guwor commended the former lawmakers for coming together under the aegis of "Forum of Non-sitting Members", to champion a common course.
Guwor appreciated their show of love and solidarity as exemplified by the visit, promising that his leadership would continue to extend hands of fellowship to members of the forum.
He also commended the forum's desire to ensure that the efforts and contributions of past leaders of the state do not go down the drain emphasizing that their wealth of experience was needed in the Advancing Delta Project of the present administration.
The Speaker promised to liaise with his colleagues and other relevant authorities, including the Executive arm of government towards addressing issues of concern raised by the forum.
He said, "I want to thank you immensely for keeping faith with this current Assembly, we do not take this for granted.
"As pointed out, my colleagues and I will liaise with the State Governor, Rt Hon Sheriff Oborevwori to see how we would incorporate non-sitting members in the appointment into the Delta State House of Assembly Service Commission. This is indeed critical as it would help to strengthen the Commission for better performance".
"Again, let me use this opportunity to assure you that we will ensure immediate upward review of your monthly subvention. Although we may not be able to take it to the N500,000 as requested, but let me assure you that before the end of next week, something substantial would have been added," Guwor said.
Earlier in his address, Chairman of the forum, Hon Akpodiogaga Emeyese told the Speaker that they were in his office to formally congratulate him on his emergence as Speaker of the 8th assembly.
Emeyese listed some of the challenges of the forum which included appointment of members into the State Assembly Commission, non-existing Secretariat, and paucity of funds, even as he requested an upward review of their monthly subvention from the current N150,000 to N500,000.
He assured the speaker of their continuous support and prayers for the state, particularly the legislative arm.