By Stella Odika
The Director-General of Warri, Uvwie, and Environs Special Area Development Agency, WUEDA, Prince Godwin Ejinyere on Tuesday 10th October, 2023, led officials of the Agency on sensitization and awareness visits to Delta Broadcasting Service, DBS, Warri and Mega FM, Warri as well as Crown and Kpoko FMs in Effurun.
The management of the media outfits visited were on ground to receive the WUEDA DG and his entourage, and promised to synergize with the agency to publicize the programmes and projects of the Delta State Government led by Governor Sheriff Oborevwori.
Prince Ejinyere told the General Manager of DBS Warri, Pastor Malcolm Oteri, his Mega FM counterpart, Dew Jemima Wilson, and the Head of News and Current Affairs, Crown and Kpoko FMs, Mr. Chimobi Nzerumobi that the Agency is out to give Warri Uvwie and their environs the much-needed facelift as a modern city.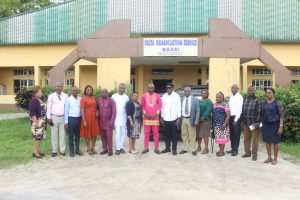 He said the Oil City which used to be the hub of commercial activities, has become very dirty with many security and environmental challenges. He said the visits to the media houses were to solicit their assistance in enlightening and sensitizing the public on the functions and expectations of the Agency.
He mentioned some of the environmental challenges as illegal structures, indiscriminate dumping of refuse in public places, especially inside drainage channels, digging across tarred roads, street trading, as well as harassing and embarrassing people on the road in the name of revenue collection by some task force officials.
He said WUEDA and the media would have a symbiotic marketing plan with the Agency towards airing the jingles and news items of the Agency. He also appealed that officials of the Agency should be invited to the radio stations as guests to discuss issues related to the mandate of WUEDA.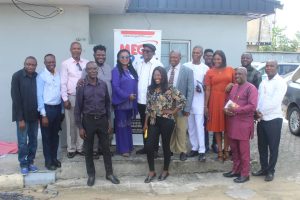 He said it is not going to be business as usual as measures would be put in place to ensure that Warri and its environs are restored to their original glory, and where indiscriminate dumbing of refuse and illegal structures would be prohibited. He added that people must understand that a clean environment is pivotal to development, and the Agency's aim is to ensure that the environment is clean and conducive to attract investors to the area. "We are going to work as an interventionist Agency that will uphold the MORE agenda of Rt. Hon. Sheriff Oborevwori's administration," he stressed.
Responding, the heads of the media stations visited promised to assist WUEDA to sensitize the public on the vision and mission of the Agency, using their news and environment programmes.
They commended Prince Ejinyere for being the first DG of the Agency to visit their various stations and ask for collaboration in this regard.