Delta born business tycoon, Olorogun Samson Gordons Okomitie, has inaugurated Easy Life Sawmill and Easy Life Hotels in Udu Local Government Area of Delta State.
Okomitie, who is the Chief Executive Officer (CEO) of CODE EMPIRE inaugurated the two investments on Monday and also laid the foundation for the take-off of phase two of Easy Life Sawmill.
The two investments are owned by the Chief Executive Officer (CEO) of Easy Life conglomerate, who is also the President of the National Association of Social Media Practitioners of Nigeria (NASMPON), Comrade Sunny Basikoro.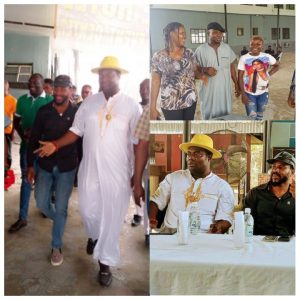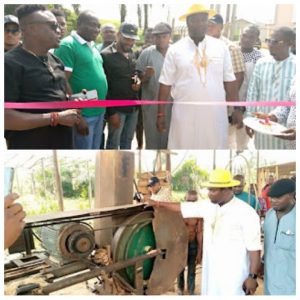 Basikoro recently wind down his political activities and went into a full-time business.
Following the grace of God upon his life, who is the architect of all men destinies, within the shortest period, he was able to put chains of businesses together.
Olorogun Okomitie, an Ughelli South born 'Urhobo Dangote' and politician with huge investment in the hospitality business and having the largest fish farm in the state whiling during the ceremony said, "Today, I am highly elated to see a man, Comrade Sunny Basikoro that has been a part of my join turning into a big investor like me thus, reducing unemployment and crime in Delta State and beyond. I must confess as a Senior Special Assitant (SSA) to the Delta State Governor on Peace Building and Conflict Resolution."
For his part, Comrade Basikoro said his passionate and committed to creating jobs particularly in his immediate environment within what God has blessed him with as part of efforts to curb unemployment, crime and other vices in society.
He noted that governments alone like other climes cannot provide jobs for those unemployed and are willing to work.
The occasion held under skinny invitation attracted friends and well-wishers of the investor including Hon Prince Sylvester Ogba Dugbo a.k.a PSOD Universal, an aspirant for Udu Constituency in the Delta State House of Assembly come 2023 under the banner of the Peoples Democratic Party (PDP), Engr. Israel Warri Israel, Owase community Vice President, Comrade Asaba, Barr Chane, Mc Okolokopapa Cfr, Security Expert, Mr Chukwuma Usifo, Basikoro Son, Owen Nero, Comrade Oghenebrorhie Godstime, Engr. Julius Agbigbe, Engr Vwegba, Hon Ejiro Ogidigben, Oghenevwega Akohwarien and a host of other personalities.