Delta State Commissioner for Works, Urban and Highways roads, Comrade Reuben Izeze, has again asked contractors handling various road and drainage projects across the state, particularly in the urban centres to return to site and get the jobs completed.
Comrade Izeze made the call, Friday while inspecting a 720-meter-long road in Okpanam, Oshimili North local government area that was recently executed by the state government.
The Works Commissioner said the dry season is already here, stressing that the contractors must take advantage of the good weather conditions to mobilize back to site to complete the projects.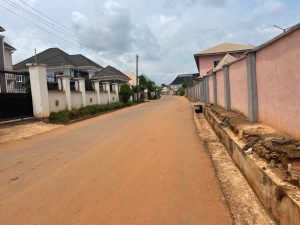 Izeze disclosed that together with his counterpart in-charge of Rural and Riverine roads, Mr Charles Aniagwu, a meeting was held recently with the contractors where they passionately appealed to them to return to site.
Saying that most of the projects were awarded by the past administration in the state, the Works Commissioner assured that ongoing projects that preceded Sheriff Oborevrwori's administration would not be abandoned.
He however, warned against shoddy execution of the projects, maintaining that every project must meet stipulated standards in line with the Governor's directive.
Izeze, a two term member of the Delta State Assembly, said non of the projects under his supervision would receive certification for payment without thorough inspection to ascertain the quality of the work.
On the 720 meters length Justice Ada Onyetenu street, off Seventy Four Road, Okpanam, the Works Commissioner, explained that he decided to check the performance of the Contractor on the project before further payment approval.
Izeze, who was conducted round by the Director in-charge of Urban roads in the Ministry of Works, Engr Solomon Akpotowho, expressed satisfaction on the work done as the road had already survived the raining season.
The Works Commissioner said the road was awarded to open up the area for development and expressed the hope that it will stand the pressure of vehicular movement in the locality.
He said every project awarded by the Ministry have period of retention, noting that if any thing happens to the completed road during the said period, the Contractor would be made to return to the site to fix it.
The 720 meters length Justice Ada Onyetenu road project in Okpanam was awarded in March 2022, by the immediate past administration of Dr Ifeanyi Okowa.