A former lawmaker and immediate past Commissioner for Water Resources Development in Delta State, Hon (Chief) Samuel Mariere, Wednesday, gave out his daughter, Oghenemise, in marriage to Mr Oghenevakpor Lucky Ekierovie of Uwherun kingdom in Ughelli North Local Government Area of the state.
Governor Sheriff Oborevrwori led the pack of dignitaries that witnessed the well-attended traditional marriage which took place at Camp Ambrose's Country Home of Hon Mariere in Evwreni town, also in Ughelli North Local Government Area.
Chairman, Delta State Board of Internal Revenue, Solomon Ighrapata; Chairman PDP Delta State, Chief Kingsley Esiso; serving and former Commissioners in the state; Special Advisers; Executive Directors and Members of DESOPADEC's Governing Board; former Members of the Delta State Assembly; local government Councils Chairmen and other top government functionaries; Traditional Rulers; Religious and Opinion Leaders; amongst others, were in attendance.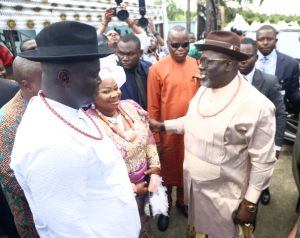 Governor Oborevrwori whose late mother-in-law hailed from the same Urevwe quarters of Evwreni with the Marieres, was deeply involved in the bride prize formalities that were done indoors in line with the tradition of the people.
Adorned in the traditional native Urhobo attire, the same pattern of clothes worn by the bride and groom as well as their parents and some others, Rt Hon Oborevrwori took time to exchange pleasantries with dignitaries at the event to celebrate with the Marieres and Ekierovies.
The Governor congratulated the couple on their union and wished them well in their marriage, even as he presented a gift to them.
The elated parents of the bride, Samuel Mariere and Mrs Joy Mariere, were full of gratitude to God for attaining such goals in their lives.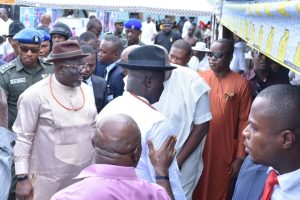 They said it is the desire of every parent to see their children get married, and commended dignitaries who came from far and near to celebrate with them.
The Marieres prayed God to bless the marriage of their daughter, Oghenemise, with His abundant grace.
Others who spoke, including, a former Member of the Delta State Assembly, Hon Daniel Mayuku and an uncle to the groom, congratulated both families and the entire Evwreni and Uwherun kingdoms on the marriage of their children.
They admonished the couple to put God first in all they do.
The bride, Oghenemise Mariere, a Lawyer, and groom, Oghenevakpor Lucky Ekierovie, an Engineer, now Mr and Mrs Lucky Ekierovie, expressed gratitude to God for their union and prayed for a successful married life.
There were lots of side attractions at the event which showcased the rich cultural heritage of the Urhobos of Delta State.