It was all laughter, thanksgiving and dance at the Effurun residence of the Akpedeyes in Uvwie Local Government Area of Delta State, as the matriarch of the family, Double Chief Theresa Agbenaghan Akpedeye marked her 85th birth anniversary in a grand style.
Organised by her children, with Prof (Mrs) Rukevwe Akpedeye-Ugwumba, a Canadian-based Physician at the forefront of the celebration, the family said they decided to package the event in appreciation of God's grace upon their mother, who they said had passed through a lot of trying times.
As expected, dignitaries from all walks of life, including a former Speaker of the Delta State Assembly, Rt Hon Victor Ochei; two former Commissioners in the state, Vincent Uduaghan and Fred Majemite, a member of Delta State 8th Assembly, Spencer Awhofa; present and former public office holders, some key players in the private sectors, traditional and opinion leaders, friends, relatives and well-wishers, were in attendance.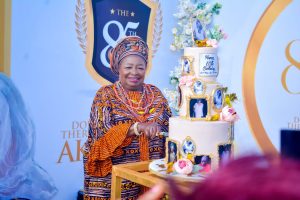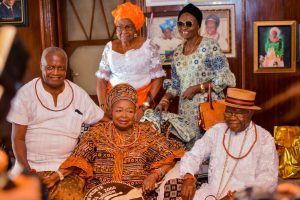 Bishop of the Warri Diocese of the Catholic Church, Most Rev Anthony Ovayero Ewherido, sent representatives to the epoch-making ceremony in recognition of the commitment of the celebrant to the growth of the Church.
Chief Theresa Agbenaghan Akpedeye, a mother of six, including the late former Attorney-General and Commissioner for Justice, Delta State, Dafe Akpedeye was full of gratitude to God and her children for celebrating her 85th birth anniversary in such a unique arrangement, after an earlier thanksgiving service on Tuesday, 3rd October 2023 at the Mother of Redeemer Catholic Church, Effurun.
Born in 1938 in Igbudu-Warri, Chief Akpedeye, reflected on the trying periods in her life, and among other things, stressed that it was so devastating losing three children to the cold hands of death.
Saying that God had always seen her through amid deep obvious challenges and confusion, Chief Akpedeye who retired from public service as Headmistress in 1997, said affliction shall never rise again in her home.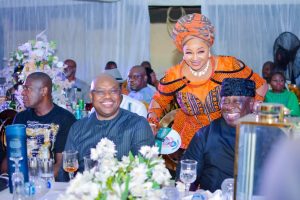 Married to her heartthrob, a legal luminary, Chief A.O. Akpedeye in 1958, the Octogenarian, prayed for God's mercies and protection for her children, siblings and all around her.
Her daughter, Mrs Rukevwe Akpedeye-Ugwumba, a Professor of Medicine and Family Health, said it was a thing of joy celebrating such a strong and wonderful woman at 85, stating that the children have so much to celebrate about their mother.
Prof Ugwumba who spoke alongside her younger brother, Ogba Akpedeye, the last of the biological children of the celebrant, emphasized that their mother meant so much to them for the unconditional love and care that she extended to many others, including her grandchildren, relatives, friends and those that came in contact with the family.
Two younger brothers of the same parents with the celebrant, Chief Isaac Iwhewhe and Chief Kenneth Iwhewhe, the Okobaro of Ughievwen Kingdom, HRM Matthew Igbi, Owhawha II, in Ughelli South Local Government Area and others who spoke, paid glowing tributes to Chief Theresa Akpedeye for the gift of longevity and commended her devotion to the work of God and service to humanity.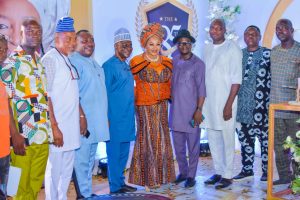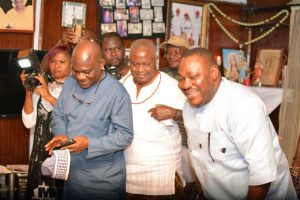 They prayed that the glory of God shall always dwell in her home and that of her children.
There were lots of side attractions at the event, including cutting of the birthday cake; musical performances; rendition of rib cracking jokes, fire works, amongst others.
A dedicated member of the Catholic Communion, Double Chief Theresa Akpedeye is a member of various religious associations in the Warri Diocese of the Catholic church.
As a reward for good living earned by making positive impacts on people, she bagged her first Chieftaincy tile "Avwebor of Uwherun kingdom in recognition of her contribution to her husband's community and another "Ephikparobo of Ughelli kingdom", from her paternal home, Ughelli.