The National Association of Seadogs Rainbow Deck has held its twelfth annual Law Day as part of activities to mark Nigeria's 63rd Independence Day celebration.
Declaring the event open, the Capoon of the National Association of Seadogs, Rainbow Deck, Mr. Ejiro Eyanasah, said it was put together to proffer solutions to some of the socio-political challenges facing Nigeria, as it marks her 63rd Independence anniversary.
Mr. Eyanasah, a lawyer, noted that the event attracted seasoned professionals as resource persons and discussants, with the aim of addressing issues such as corrupt practices, non-compliance with electoral rules by the INEC, leading to public outcry, as well as the resurgence of military coups in some African countries.
The event's chairman, Prof. G. G. Darah, described the topics for discussion as apt, as they were aimed at tackling the country's political challenges.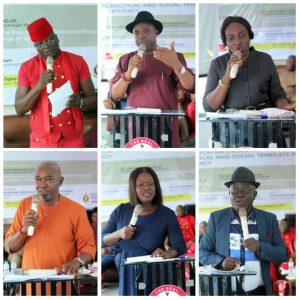 Prof. G. G. Darah commended the leadership and members of the National Association of Seadogs, also known as Pyrates Confraternity, Rainbow Deck, for organizing the programme, and called for its sustenance.
In his keynote address tagged "Civilian and Military Coups and their Existential Threats to Democracy: An Exit Road Map," a Professor of African Literature at the Delta State University Abraka, Prof Sunny Awhefeada, condemned the resurgence of military coups in some African countries, noting that military rule retards development.
He said, "Military rule is not the road to travel, as it only brings a long night of tragedies."
For his part, a constitutional lawyer, Dr. Akpo Mudiaga-Odje, who spoke on judicial powers in the resolution of electoral disputes from 1979 to 2023, urged lawyers to always get their evidence ready before rushing to Election Petitions Tribunal.
Dr. Mudiaga-Odje warned the public not to use social media reports to access judgements on election cases. He noted that democracy can be sustained in Nigeria only if everyone is politically vigilant.
Some discussants at the event, including Chief Emmanuel Kuejubola, Hon. Misan Ukubeyinje, representatives of the chairmen of Uvwie and Udu Local Govts, Mr. Gibson Agbamu and Mr. Alex Sajuwa, as well as  Prof. Temi Akporunor called for attitudinal change by all Nigerians.
After the Law Day lectures, families and friends of members of the National Association of Seadogs were hosted to a get-together popularly called Karamba, which featured several side attractions like the Mothers' Dancing Contest, Bouncing Castle, and Mascots for children.
The one-day event also featured a free medical diagnosis and treatment.